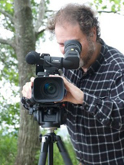 Mark Ireland is the owner of M.I. Media. His nearly 30 year experience in the industry includes 15 years at Maine Public Television. Here he produced numerous documentaries, including science programs for the Emmy award winning program, Quest. Mark also profiled many Maine businesses for Maine Public's highly popular, Made in Maine. One of his segments brought home the station's very first Emmy award.
As an independent producer, Mark continues to work with Maine businesses as well as non-profit and educational organizations. A major interest and focus is Maine conservation. In addition to producing, he is highly skilled at shooting and editing. He writes scripts for many of his projects and his background in graphic arts lends itself to creating compelling visuals whenever called for. Mark is adept at all mastering and distribution options, whether your final product is authored to a DVD, placed on the internet or mastered for broadcast.
For four years, Mark served as Web Chair for Maine Film & Video Association (now Maine Film Association) where he co-created and maintained the organization's website and Facebook page. His deep connections within Maine's film and video industry means he can find just the right equipment and personnel when needed for bigger projects.
To see sample videos and selected lists of M.I. Media projects, please go to the Projects page.